Verizon Care Smart watch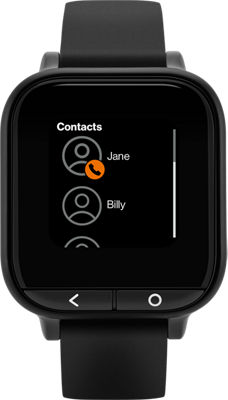 Care Smart watch is an easy-to-use smartwatch designed for seniors. With features like streamlined calling and texting, text-to-speech, reminder settings, and one-button emergency contact calling,1 this device helps seniors stay connected and puts family members' minds at ease. Using the Care Smart app2 caregivers can add up to 10 trusted contacts3 as well as manage useful things like medication reminders and location alerts. A large easy-to-read display, simple navigation and pre-set text replies make Care Smart a trusted, everyday companion that seniors and caregivers can rely on. Stay connected with your loved ones with the Care Smart watch and Verizon, America's most awarded network.
Key features
Simple to stay in touch.
Care Smart comes with a number of pre-loaded messages making it easier than ever for seniors to respond to text messages. An easy-to-read screen displays the date and time and streamlined 3-touch navigation for accessing contacts, placing calls or sending texts makes this smartwatch a snap to use. Helpful functions, like a timer, stopwatch, volume and ringtone controls allow the wearer to customize their watch to their lifestyle. Care Smart helps seniors stay effortlessly connected with loved ones with easy-to-use functions and simplified calling and texting.